LONDON, UK. Thursday June 10, 2021: Organisations are increasingly consuming multiple different cloud services to harness the flexibility, scalability and agility of SaaS applications and virtual compute services.
This webinar in partnership with Cisco on will provide thought leadership on the key challenges of multicloud connectivity and the solutions available to optimise network performance and to maximise your cloud investment.
Moving from traditional data centres to cloud services can significantly reduce capital expenditures and ensure that operating expenses are aligned with evolving business needs.
By blending a mix of different private and public cloud providers, UK and Global businesses can optimise the fit between their application requirements and the cost of providing secure access to information whenever required.
However, managing multiple cloud providers significantly increases complexity. There are often several network providers to manage, visibility across cloud environments is reduced and security policies are harder to implement and manage across a multi-cloud environment.
This webinar will provide thought leadership on the key challenges of multi-cloud connectivity and the solutions available to optimise network performance and to maximise your cloud investment.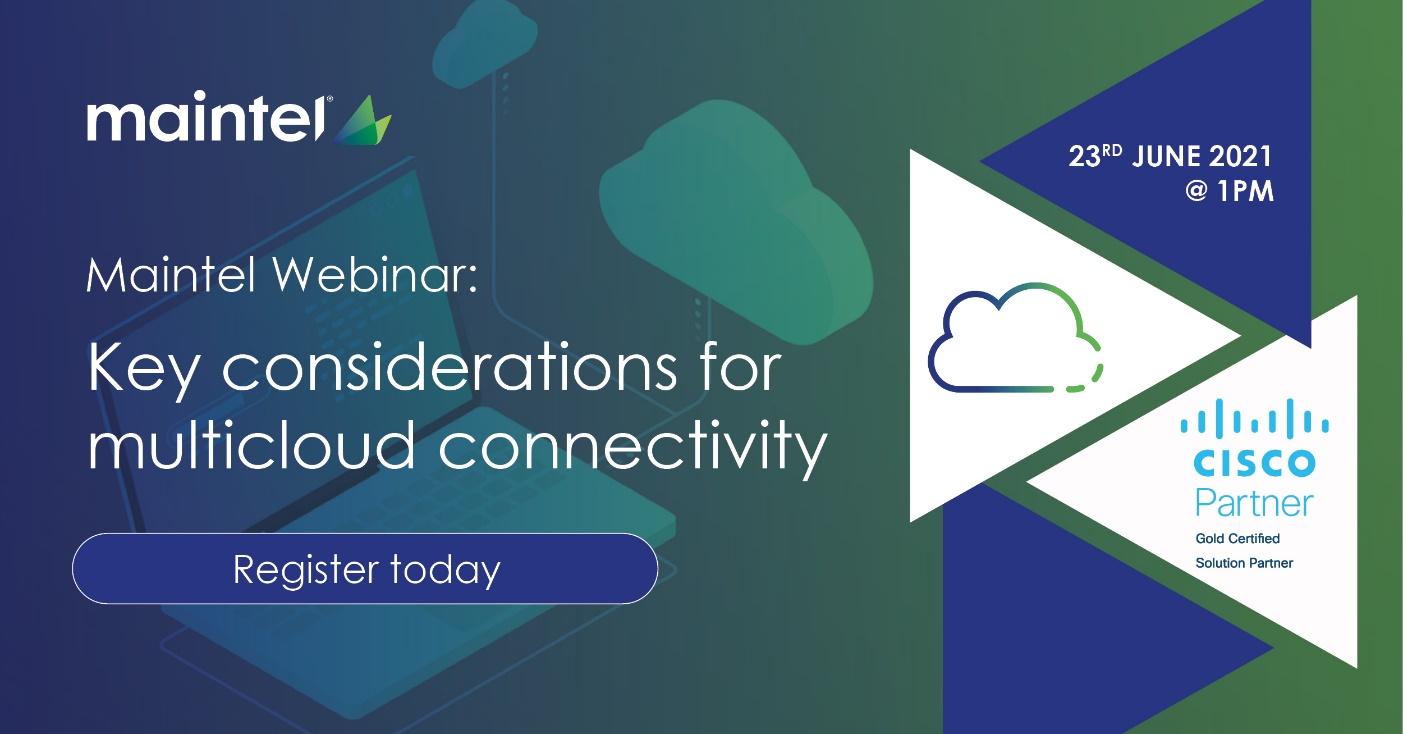 During this webinar, the following will be discussed:
– The key considerations and strategies to successful multicloud adoption
– Implementing an integrated approach to application and cloud infrastructure platforms
– Security and compliance requirements both on premise and remote
Speakers
Paul Bulmer – Director Of Product at Maintel
Paul David – SD WAN Specialist at Cisco
Kevin Burgess – Product Manager – Wide Area Networking at Maintel
Register to Attend and View the On-demand recording shortly after. Click Here:
ENDS
About Cisco
Cisco Systems, Inc. is an American multinational technology conglomerate headquartered in San Jose, California, in the center of Silicon Valley. Cisco develops, manufactures and sells networking hardware, software, telecommunications equipment and other high-technology services and products. Through its numerous acquired subsidiaries, such as OpenDNS, Webex, Jabber and Jasper, Cisco specializes in specific tech markets, such as the Internet of Things (IoT), domain security and energy management. On January 25, 2021, Cisco reincorporated in Delaware.
Cisco stock was added to the Dow Jones Industrial Average on June 8, 2009, and is also included in the S&P 500 Index, the Russell 1000 Index, NASDAQ-100 Index and the Russell 1000 Growth Stock Index. In 2020, Fortune magazine ranked Cisco at number four on their annual list of the 100 Best Companies to Work For in 2020 based on an employee survey of satisfaction.
About Maintel
MAINTEL HOLDINGS PLC (LSE:MAI) is a Cloud and Managed Services Company with a focus on communications. Its people are experienced, trusted technology advisors, who improve their clients' organisations through digital transformation.  
Founded in 1991, Maintel has a proven track record of delivering Unified Communications solutions and services to both the private and public sector. In that time, the company has gained the expertise to solve the challenges associated with digital initiatives, and its managed services approach ensures clients realise the full value of their technology.  
This is achieved by specialising in three key pillars of digital transformation: making organisations more effective, efficient, and collaborative with Digital Workplace Solutions; allowing organisations to acquire, develop, and retain more business by using technology to create more meaningful customer experiences through outstanding service; ensuring organisations' employees, customers, and partners always have seamless access to their data and applications through reliable, secure connectivity.   
Ongoing growth of Maintel's Cloud and Managed Services offerings continues to allow the company to keep supporting the increasing demands of the market.  
Please visit www.maintel.co.uk for more information.  
For more information please contact: 
LEWIS Communications   
Tel: (+44) 020 7802 2626   
Email: maintel@teamlewis.com  
FOLLOW Maintel
LinkedIn: https://www.linkedin.com/company/maintel
Twitter: https://twitter.com/Maintel
Facebook: https://www.facebook.com/mainteluk
Youtube: https://www.youtube.com/channel/UCjz1VaU1SA6T_iZlEXpybDw
Contact Detail:
Company Name: LEWIS Global Communications
Contact Person: Chris Lewis
Email: Send Email
Country: United Kingdom
Website Url: http://www.lewis.com/


Source: www.PRExhibition.com